From our culinary Jungle Goddess, Nikkie Windsor.
Paprika pan-seared scallops served with lemon garlic butter and herbed cauliflower rice may sound like something you would get in a upscale restaurant but let me assure you that this is a really straight-forward dish to make, and it is ready in about 30 minutes, prep and all.
I've actually never cooked scallops, but they were over a third off in M&S so I though "Why not?".
Turns out that scallops are one of the healthiest seafoods out there! The fact that I'm going to smother it in garlic lemon ghee negates that slightly but ghee is super good for us too, and I'll give you some facts on that shortly.
Scallops are 80% protein, contain very little fat, have high levels of antioxidants and are rich in vitamins and minerals. They have a delicate flavour and are especially nice when seared in butter.
The trick with scallops is to not overcook them. Keep the cooking time short and serve immediately. They also don't work well as leftovers, because on reheating they become chewy.
Scallops can be quite expensive so if you aren't lucky enough to find them on special like me, you can always substitute shrimp, prawns or sliced chicken. For a vegan option this recipe would work well with sliced tempeh or tofu with vegan butter sauce. I've even seen oyster mushrooms substituted for scallops.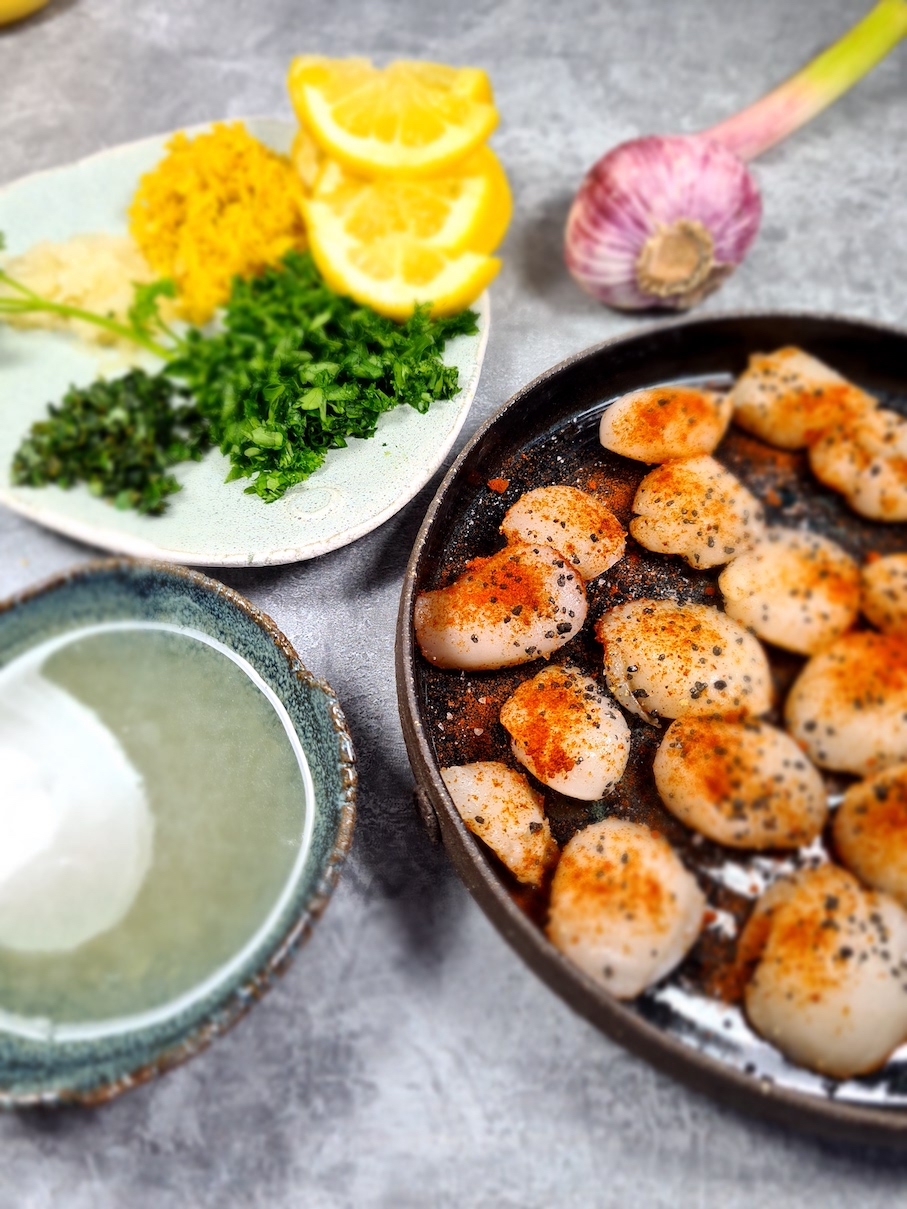 Healing action of ghee on GI inflammation
So what is ghee? It is a type of clarified butter that is heated longer than normal resulting in a stronger, nuttier flavour that has a higher smoke point making it suitable for frying. You make ghee by heating regular butter, which causes the water to evaporate and the milk solids to separate so that they can be removed. As a result ghee is generally considered lactose and casein free*, and is suitable for those who suffer with these intolerances.
(*may contain minute amounts of lactose or casein)
In Ayurvedic teachings, clarified butter enhances the ojas, an essence that governs the tissues of the body and balances the hormones. It is said to promote the healing of injuries and gastro-intestinal inflammations such as ulcers and those in irritable bowel disease, as well as increasing "digestive fire".
I absolutely love the flavour and will happily eat it by the spoonful. If I have particularly bad diarrhoea I mix it with stewed apples, nutmeg and cardamon seeds, a ayurvedic remedy.
Ghee is easy to make and I always keep a batch in the cupboard. It lasts very well and doesn't require refrigeration.
Homemade golden paste, ghee and yogurt
The Versatility of Cauliflower Rice
I'm more of a 'spur of the moment' type chef so a quick scan of the fridge told me that I was accompanying the scallops with cauliflower.
As mentioned in a previous post, I like to keep my starchy carbohydrates to a minimum so cauliflower rice is a great substitute. It is easy blitz up if you have a food processor, and not much more effort is required with a knife. Many supermarkets stock cauliflower rice in the frozen section making it even easier! I actually buy up extra cauliflowers when they are on special and rice and freeze it in bags ready to go.
Cauliflower rice is popular for those following a Keto diet, as well as many other specialist diets as it is so versatile as a carb substitute. You can use it in pretty much any rice dish from egg-fried rice to jambalaya and risotto to biryani, or mix it with beans for a Latin twist. Stretch your imagination a little further and you could be making cauliflower pizza crust, porridge, rice pudding, stuffed vegetables, fritters and more!
Cauliflower is a great source of fibre that supports healthy digestion. Being very low in calories it is great for weight management, especially as the fibre content helps to promote feelings of fullness. Cauliflower contains some of almost every vitamin and mineral that you need and is particularly high in vitamin C. Vitamin C is also a powerful antioxidant and is just one of several different groups of antioxidants that can be found in cauliflower, making it beneficial for reducing inflammation and protecting against several chronic diseases.
Enjoying Lemons Again
Lemons were a rarity in Costa Rica. I can remember getting excited when I moved into a new house about 8 years ago to discover a lemon tree growing over the house. I hadn't seen lemons for years! I made jars full of preserved lemons and lots of lemonade. Limes are a lot more prevalent in Costa Rica as well as mandarinas, a green citrus fruit with slightly orange flesh and quite gnarly skin. They were just the best for juicing.
Anyway, I digress while reminiscing. Lemons are high in vitamin C and contain valuable plant compounds that are linked to heart health and lowering cholesterol. The fibre in lemons is particularly beneficial to us, especially for digestive health. The lemon peel also contains these beneficial compounds so be sure to use peel and zest in addition to the juice.
For the recipe, scallops and cauliflower rice, click here to view on the Jungle Goddess' website
https://www.networkshe.co.uk/wp-content/uploads/2021/06/20210517_182846-980x980-1-e1623699107882.jpg
600
600
Nicola Moore
https://www.networkshe.co.uk/wp-content/uploads/2017/06/NetworkShe-logo.png
Nicola Moore
2021-06-14 20:35:16
2021-06-14 20:35:44
Pan-Seared Scallops with Herbed Cauliflower Rice